Sex Toy Review of "The Hub" Vibrator
The Hub Vibrator Sex Toy Review
This product is available at the Sex Toy Shop

Doc Johnson has a new sex toy called "The Hub". The central hub has two and it allows two attachments to use the central hub that controls both attachments separately. Each attachment has multiple speeds and 8 functions that can be controlled at the central hub. Two attachments, including a rippled dildo and a penis-shaped dildo, are included with the strawberry-colored hub sex toy. The grape-colored hub sex toy includes two rippled dildos with different lengths, widths, and shapes.
First Impressions of The Hub
My first thought is how The Hub is a great girl/girl sex toy since each dildo needs someone to please and somewhere to go.

This toy adds an element of fun since two people can play with it. And unlike a regular double-headed dildo that two partners can share, The Hub lets each partner vibrate her attachment only.

With multiple speeds and functions, each partner can play with many stimulation variations. The Hub has something for any taste.
The Hub Sex Toy Review Introduction
The Hub can be used for solo masturbation and for partner play. I chose to test it both ways to find out how this sex toy could enhance my solo masturbation time and partner playtime.
The Hub Sex Toy Review During Masturbation - Penis Attachment
The penis-shaped dildo attached to The Hub felt best as a simple vibrator. With 8 vibrating functions, there were many options to try during stimulation. The penis-shape felt good pressed against my g-spot, but it felt best when laid across my clitoris, labia, vagina and anal areas all at once. Testing each vibrating function was fun and a few really aroused me. I chose my favorite setting, the constant vibration. Starting at the lowest speed, the speed slowly increased to the highest speed, only applied right before and during orgasm. The vibrating penis attachment stimulated the whole area so well that I couldn't hold back an orgasm.
The Hub Sex Toy Review During Masturbation - Rippled Attachment
The rippled attachment, which was well-lubed and stimulated my sensitive spots, felt best inside my vagina. Rippled for my pleasure, this ripple design coupled with vaginal motion led to an orgasm that was quite satisfying. The vibrator was at maximum speed during orgasm and the vibrating functions changed during vaginal penetration. The final function that was the catalyst to orgasm was the shift from a roller-coaster type function to the constant vibrating dildo shifting back and forth in my vagina. I was simply satisfied to the core. The rippled design is definitely my favorite of the two attachments since it felt so good inside and out.
The Hub Sex Toy Review During Partner Play
As far as girl/girl playtime goes, it's easy to imagine how fun and satisfying this sex toy could be. I haven't had the opportunity for that yet, but I'm looking forward to it. To play with a male partner, I first had to remove one end so I could use the toy to stimulate my clitoris during penetration. While straddling him during sex, I used the rippled attachment with constant vibration and held it pressed against my clitoris and labia, which vibrated against my partner and inside my vagina. He felt the vibration inside of me, and we both had climactic endings. The Hub with the rippled attachment is one of the best toys I've used during sex with my partner. It didn't get in the way, and still gave me the vibration I desire against the clitoris and labia while having wild, uncontrolled sex.
Overall Sex Toy Review of "The Hub" Vibrator
With multi-speed and multi-function vibrating dildo options, The Hub led to happy endings during solo masturbation and partner playtime. As a solo masturbation vibrator, I'll choose The Hub when I feel like having a unique rippled vaginal orgasm or as a vibrator to lay across the clitoris, labia, vagina and anal area.

Most often, I will pull out The Hub vibrator during couple playtime since it's one of the best couple sex toys I've used with my partner. The Hub was not only non-obtrusive, but it actually feels so good for both of us (at the same time) that it gave us simultaneous orgasms. I want more of these simultaneous orgasms, so The Hub vibrator with the rippled dildo makes its way to my top sex drawer.

This product is available at the Sex Toy Shop
Orgasm Books and Videos
A book and video set that teaches women to orgasm. includes detailed demonstrations.

The Ultimate O teaches women how to find and stimulate their g-spots for enhancing the female orgasm.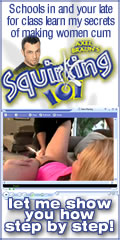 Orgasm Products and Sex Toys

The Hitachi Magic Wand is the most often recommended product from sex educators for female masturbation and orgasm.


The Rabbit was made famous on HBO's Sex and the City and is now the industry's top seller.




If you've never shopped for adult products online, start with Sex Toy Warehouse for sex toys and Sex Shop Mall for adult videos and DVDs. They both offer discreet shipping and the lowest prices I've been able to find.